[ad_1]
WAKE COUNTY, NC – For many, summer seems just beginning, but students and teachers are already thinking about the new school year. According to the National Retail Federation, 84% of families expect to see higher prices for back-to-school purchases.
What do you want to know
According to the National Retail Federation, 84% of families expect to see higher prices for back-to-school purchases
Wake County teacher says she has to be very resourceful to get all the supplies she needs each year
On Monday, the "Back to School with Tools4Schools" campaign was launched in Wake County to benefit educators and students
WakeEd estimates that teachers spend an average of $500 on school supplies out of their own pocket every year
"For me, teaching is not something I can turn off. I'm on summer vacation, but I'm still thinking about what I'm going to do in the fall and planning ideas," said Cedar Fork Elementary School teacher Miriam Perez.
Perez may not be in class right now, but she's been spending a lot of time figuring out which lessons to include this upcoming school year.
"I collect a lot of ideas from a lot of different places. Then all these ideas need different materials, and I'm looking here and there and trying to figure out what I have so I can do the different activities," Perez said.
A math lesson she is working on involves measuring water in different glasses. She has enough rules and plans to bring cups from home, but she's figuring out where to find the other supplies.
"The graduated test tubes, I have them at school, but I don't know if I have enough. So once I get back to class I'm going to have to go through my boxes and see how many I have and that's the kind of thing where I might need to order more and try to scrounge some up there aren't enough to give every group one," Perez said.
She was hoping to do a different lesson that required funnels, but there were too many new supplies she needed for that.
"There's a lot of great stuff out there that I could look into if I didn't have to worry about supplies and cost and convenience," Perez said.
She was also looking for a set of books for a specific class and was finally able to buy them from another teacher.
"You have to weigh it and this calculation is different for each teacher. What is your personal financial situation, what kind of gear do you need and how important it is to you and how to balance these needs and take care of yourself, your own finances and your own family about the things you need to feel like you're successful and effective at your job," Perez said.
In addition to needing resources to do their own work, teachers also try to help students get what they need for everyone to succeed.
"Every year we had students who just weren't able to get things on the supply list. So being able to get these things so that they're on equal footing with everyone else in the class so it didn't hold them back and didn't hold the class back was always an issue every year to figure out how to get there," Perez said.
"When teachers ask for things or when students have to bring things, we know it's hard for parents, and sometimes it's hard for teachers. We all work together as best we can to ensure that we provide students with the best possible learning opportunity," Perez said.
Many counties have organizations that distribute free or discounted supplies to teachers and students. On Monday, the "Back to School with Tools4Schools" campaign kicked off in Wake County.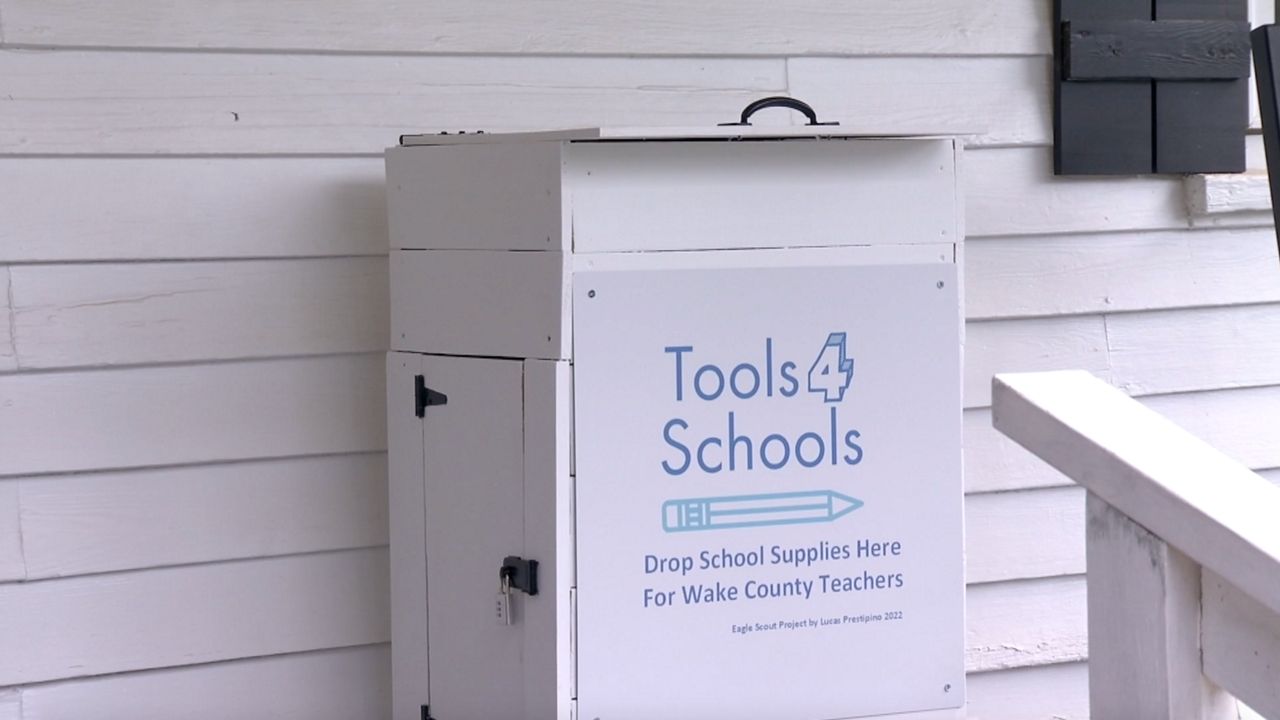 "Tools4Schools was simply designed for this. It was to help teachers who we know spend an average of $500 out of pocket. We confirmed this ourselves with the teachers who came to do their shopping. So what the store is is a place where teachers can get free supplies to take to their classrooms, use in their classrooms, and give to their students who don't have any" , said Keith Poston, president of WakeEd Partnership.
The WakeEd partnership is once again collecting supplies to fill a warehouse that will benefit educators. People can donate supplies by placing them in one of dozens of drop boxes across the county. This community-wide procurement campaign will benefit 11,000 teachers and 160,000 students.
"That's what Toosl4Schools and WakeEd Partnership are all about. It is about reminding the community that these are our teachers, these are our students, our children and our schools. We want to do everything we can to support them and make them succeed. Part of that is having all the tools you need to do your job," Poston said.
The 4Others Foundation will match any donation to Tools4Schools from WakeEd Partnership through the end of August up to $25,000.
For more information on Tools4Schools, visit the WakeEd website.
[ad_2]
Source link