[ad_1]
Some people like to shop, but I'm not one of them.
I'm always worried that I'm not getting the best deal, that I haven't done my research, or that someone else knows something about saving that I didn't.
RELATED: Tech Savvy: The Future of Space Travel
Anything that can ease the inescapable mentality before it's gone that Amazon Prime Day or the brick-and-mortar store front doors of Black Fridays of years past is good in my book.
A colleague of mine who is a parent recently mentioned a service provided by an online company that is getting an "A" IMHO with the school year fast approaching.
Forestview Middle School has shared a post on its official Facebook page for anyone who is a parent of a school-aged child that is meant to make shopping for school supplies simple.
The Brainerd Public School post said Forestview, like other schools across the country, has chosen to sell prepackaged school supplies for the upcoming school year through School Tool Box.
RELATED:
Tech Savvy: Explore Dashlane, a password management system
A parent's chosen school supply package will be delivered to the parent's address or place of business through "Easy Online Ordering" that can be personalized.
Benefits would include preventing other back-to-school shoppers from scrambling to find the same school supplies suggested or mandated by a particular school.
School supplies purchased using the School Toolkit website are "trusted brand supplies" from a teacher-approved list, according to the Facebook post.
Forestview Middle School's suggestion to use the online provider seems to resonate with at least some parents. Over 35 people liked the idea and have shared the post nearly 20 times since Thursday, August 5.
RELATED: Tech Savvy: The Hype Around Audiobooks
So how does it work? Go to the school toolbox website at schooltoolbox.com. Type the school name or zip code in the search box and a list of suggested schools will appear.
There are customizable boxes that can be ordered based on the class the student is in, so the buyer can change quantities or remove items that are not needed. Shipping is also free on orders over $50, and expedited fulfillment options are available at checkout.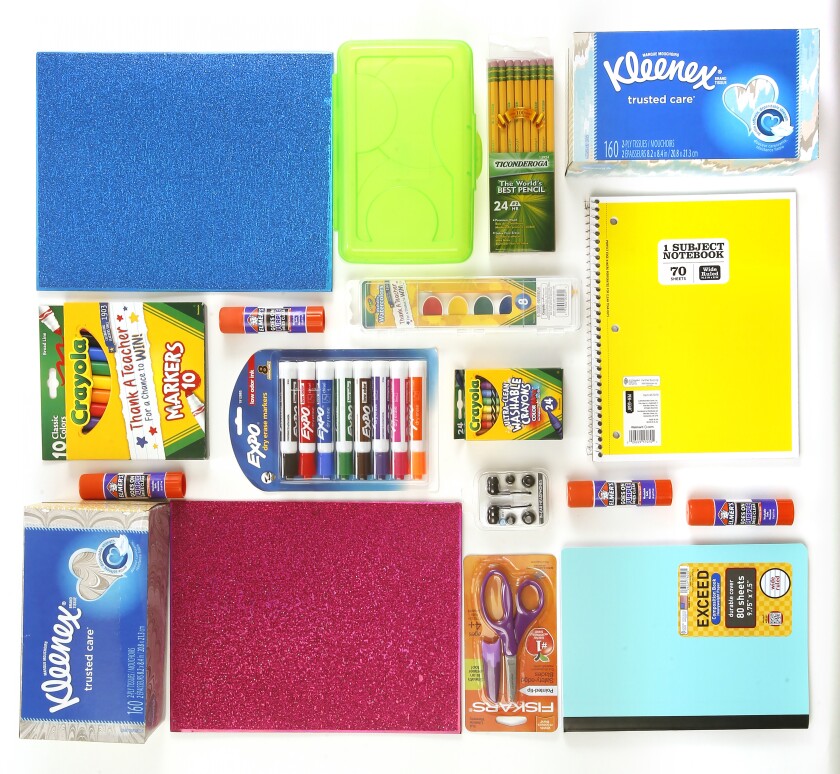 The parent can view the prepackaged box by clicking on the option. A teacher's note will often appear listing items that are requested but not included in the kit and items that are requested or required, and are available as an optional add-on purchase.
For example, a backpack or school bag, water bottle and sports shoes are the requested items for a fifth grade student at Forestview while headphones or earphones and a USB mouse for Chromebooks are requested or required by the teacher but not included in the prepackaged kit.
RELATED: Tech Savvy: Is Your Home Wi-Fi Secure?
Examples of items that are in the prepackaged kit for a fifth grader at Forestview include two-pocket folders, spiral notebooks, colored pencils, highlighters, markers, pencils, erasers, permanent markers and tissues.
Sounds pretty easy and, IMHO, takes the headache out of buying school supplies. But if anyone has a question about ordering, they can call School Tool Box toll-free at 1-800-952-1119 from 8 a.m. to 5 p.m. Monday through Friday.
A parent can order from School Tool Box even if the child's school is not participating in the online program, but the parent must have a child list from the child's corresponding school with them when ordering. order and place each item listed on the Website in the Shopping Cart.
And here I thought hanging a Star Wars-themed Trapper Keeper – with its sliding plastic rings instead of metal binding rings and its wrap-around flap with a Velcro closure – was about the best thing to about back-to-school shopping.
FRANK LEE can be reached at 218-855-5863 or frank.lee@brainerddispatch.com. Follow him on Twitter at
.
1/4: Photo Forum press service / David Samson
2/4: Image Bank / Pixabay
3/4: Michelle Wirth / RiverTown Multimedia
4/4: School supplies photo illustration. Matt Gade / Forum News Service
1/4: Photo Forum press service / David Samson
2/4: Image Bank / Pixabay
3/4: Michelle Wirth / RiverTown Multimedia
4/4: School supplies photo illustration. Matt Gade / Forum News Service

[ad_2]
Source link